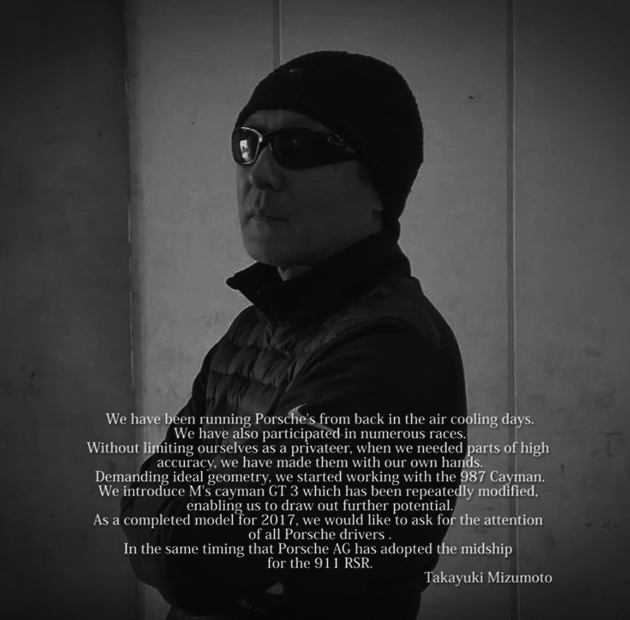 Based on the Porsche 987 Cayman, the rear strut suspension has been replaced with a newly designed original multi-link suspension and with unprecedented modifications such as the GT3 engine in the heart of the car, production started in 2013 with the aim of building a car that surpasses the 911.

Up and running since 2015, and now in its Phase 2 iteration, the GT3 engine has been upgraded to a 4L version. Furthermore, the rear end has evolved with a new tube frame, a Hewland NLT gearbox with paddle shifters and double wishbone suspension. Still continuing to undergo development, there is no end to the evolution of the M's Cayman GT3.

At this time, we're excited to announce the production of the M's Cayman GT3 Street Version with the body kit going on sale in early 2021.

The full body kit rivaling the appearance of a GT3R will include a racy front bumper with 997 headlights, rear fenders with integrated air ducts spanning 1,950 mm wide and a swan neck rear wing.

For circuit-use customers, a full list of options, including but not limited to, an even larger swan neck rear wing, canards for the front bumper (4 pcs.), race-use side skirts, and 987-specific Ohlins coilovers are also available.

It is our hope that you enjoy the M's Cayman GT3 on the streets.

Takayuki Mizumoto
CEO
M's Machine Works

KIT価格 ¥1,000,000(税別)
Kit Price 1,000,000 Yen(plus tax)
内訳 Contents
■フロントバンパー Front Bumper
■フロントリップスポイラー(CFRP) Front Lip Spoiler
■フロントフェンダー Front Fenders
■リアフェンダー Rear Fenders
■リアバンパー Rear Bumper
■リアウイングキット(CFRP) Rear Wing Kit
■サイドステップ Side Skirts
■フロントバンパーネット3点 Front Bumper Mesh Grille (3 pcs.)
■コーションプレート Serial Number Plate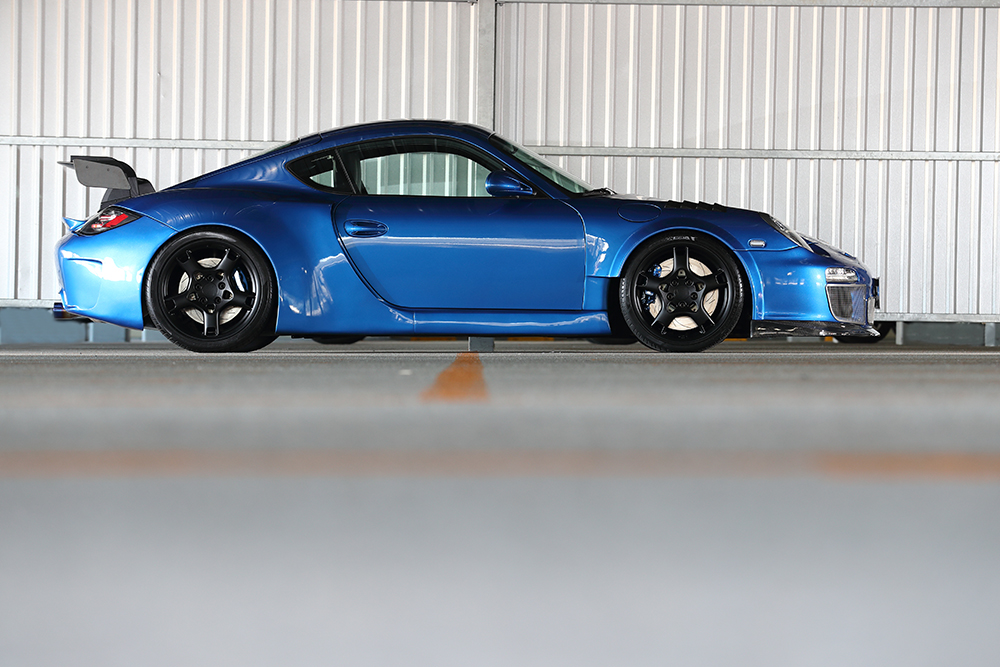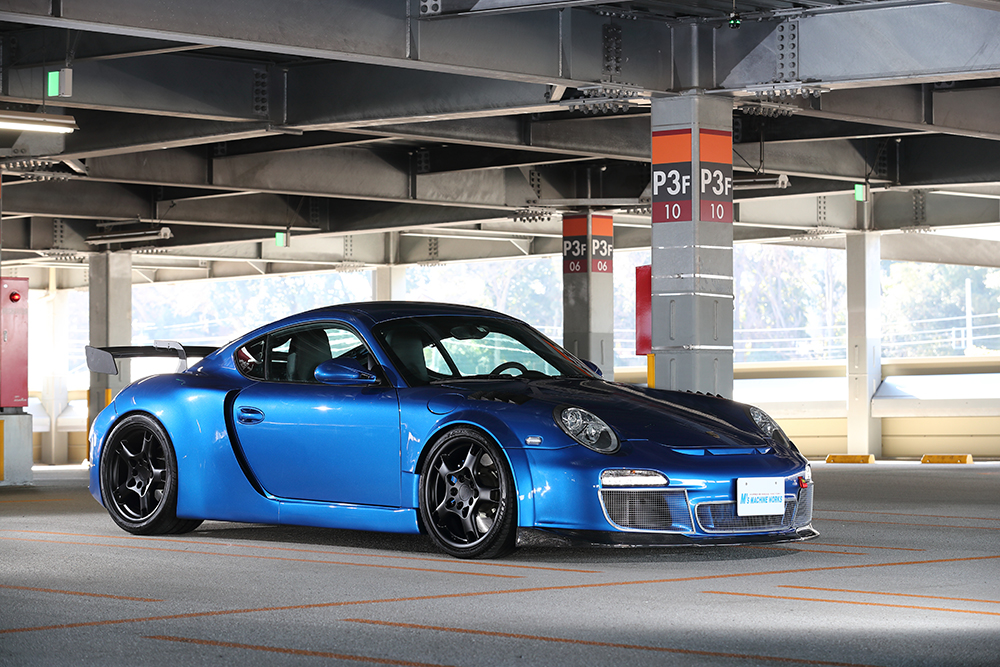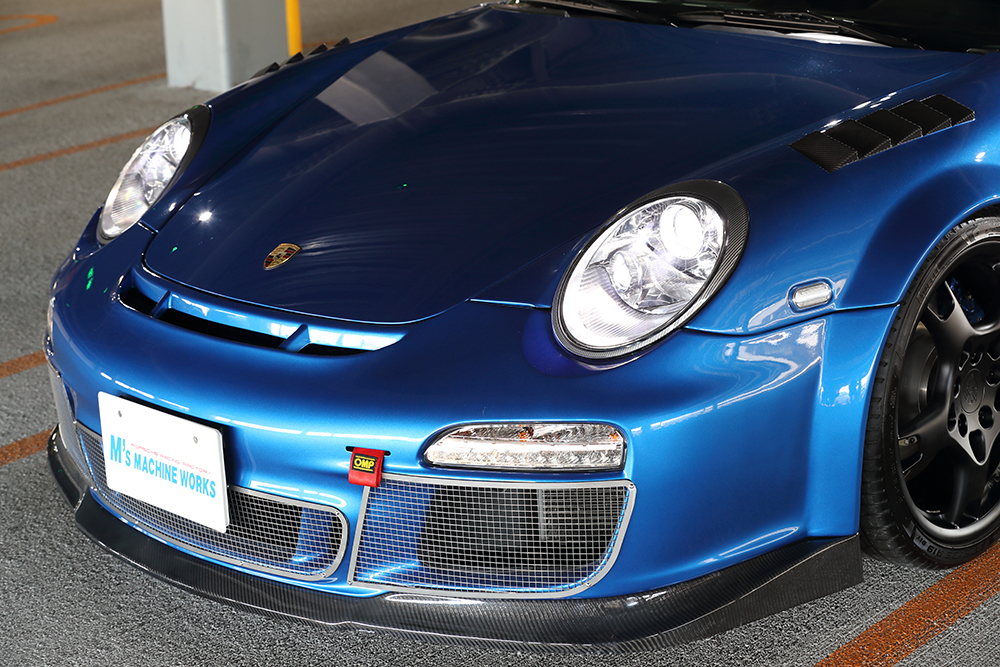 ■997ヘッドライト左右(ハロゲン)
 997 Headlights L/R (Halogen)
 (997.631.163.14/997.631.164.14)
  158,200 yen
■997ヘッドライト用ベース左右
 997 Headlight Bases L/R
 (997.631.073.02/997.631.074.02)
  33,800 yen
■997.2ウインカーフォグ左右
 997.2 Turn Signal/Fogs L/R
 (997.631.083.03/997.631. 084.03)
  100,800 yen
■997.2ウインカー用フレーム左右
 997.2 Turn Signal Frames L/R
 (997.505.563.92/997.505.564.92)
  35,800 yen
■997.2ラジエターダクト左右
 997.2 Radiator Ducts L/R
 (997.575.321.91/997.575.322.91)
  45,200 yen
■前期車は後期テールライトが必要です。
 987.2 taillights will be required when installing the kit on 987.1.

Click on parts.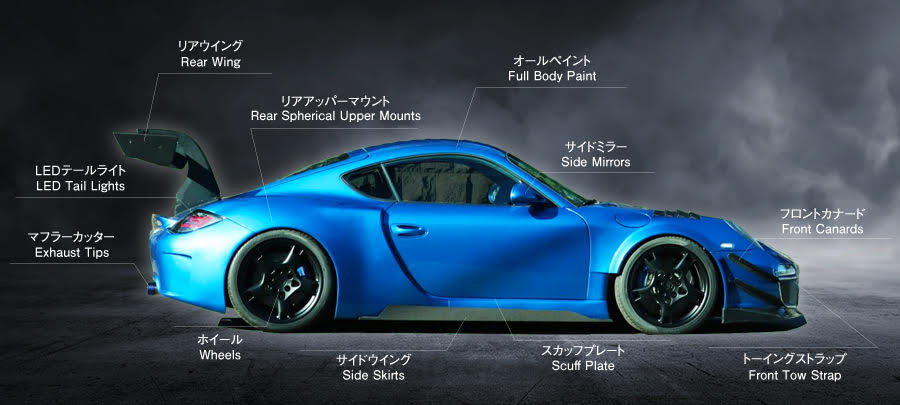 1.オールペン Full Body Paint
   300,000 yen and up
2.997カレラS純正ホイール/マッドブラック塗装済み
 997 Carrera S OEM Wheels (Painted Matte Black) F: 19x8J +57, R: 19x11J +51
  200,000 yen and up
 ・.997カレラS純正ホイール用/F40mm+20mm/R40mm+40mmスペーサー
 Wheel Spacers for 997 Carrera S OEM Wheels(F: 40mm+20mm, R: 40mm+40mm)
  178,000 yen
 ・.クロモリホイールボルトブラック F/47mm R30mm
 Chromoly Wheel Bolts Black (Set of 20)(F: 47mm, R: 30mm)
  50,000 yen
3.SONAR社製LEDテールライト
 987.2 LED Tail Lights
  120,000 yen
4.削りだしCayman GT3スカッフプレート左右
 Cayman GT3 Cut Out Scuff Plate
  40,000 yen
5.純正マフラー用マフラーカッター(φ90×2)
 Exhaust Tips for OEM Exhaust (90mm x2)
  80,000 yen
6.サイドミラーCFRP(ベース付き)
 CFRP Side Mirrors (Mount Base Included)
 ¥ -(制作中)
7.M's Cayman GT3 リアウイング&専用ステー
 M's Cayman GT3 Rear Wing and Mounts
   150,000 yen and up
8.M's Cayman GT3サイドウイング(CFRP)
 M's Cayman GT3 Side Skirts (CFRP)
  120,000 yen
9.M's Cayman GT3フロントカナード左右4枚(CFRP)
 M's Cayman GT3 Front Canards (4 pcs.)
  80,000 yen

10.M's Cayman GT3フロントトーイングストラップ&ブラケット
 M's Cayman GT3 Front Tow Strap & Bracket
  60,000 yen
11.OHLINS車高調サスペンション
 OHLINS Coilover Suspension Kit
  400,000 yen
 ・OHLINS-PASMキャンセラーKIT
 PASM Canceller Kit
  78,000 yen
 ・リアピロアッパーマウント(キャンバー補正用)
 Rear Spherical Upper Mounts(For Camber Correction)
  58,000 yen

* 在庫確認及び納期の確認はお問い合わせメールにて承ります。お気軽にご連絡下さい。
  For inventory and delivery date confirmation, please email us. Please feel free to contact us.

 *送料は都度お見積りします。住所をお知らせください。
  We will send you a quotation for shipping fees. Please inform us of your shipping address.
  For overseas customers, we recommend airmail for expedited deliveries and surface mail if you would like to save costs. Please feel free to contact us with specific requests.

 *塗装取付も承ります。 600,000 yen(色変え無しの場合)

 *KITを購入したお客様のみ補修用の単品購入とオプションパーツの購入が可能です。(補修用部品の金額は都度お問い合わせ下さい。)
  Only customers who have purchased body kits may purchase individual items for repair and the following optional parts.(Please contact us for pricing of repair parts.)

M's MACHINE WORKS
Contact